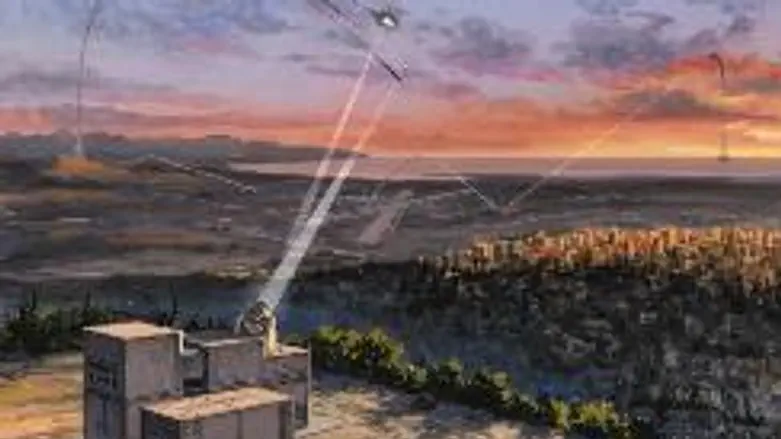 SkyGuard laser system
Northrop Grunman
Laser systems that will replace existing air defense systems on the battlefield are expected to go operational in five years' time, experts told a unique academic conference hosted by the Israel Air Force this week. The systems being developed include lasers that will shoot down airplanes.
Col. Zvi Haimovitz, Commander of the Northern Anti-Aircraft Support Unit, told the conference that "it is just a matter of time" before the laser technology becomes operational. "It is too bad that laser systems are not advancing at the same rate as standard systems, but their price certainly plays a significant role in the delayed process," he explained.
Some of the Israeli academia's top scientific and technological minds met with hundreds of the Air Force's top officers at the conference, that was titled "Energy: The Challenge of the Future." It was held at an IAF base in Herzliya, the IDF website reported.
Anti-Aircraft Lasers
Maj. Gen. (res.) Prof. Isaac Ben-Israel, former head of the Administration for the Development of Weapons and Technological Infrastructure (Maf'at) and current Chairman of the Space Authority, said that short-range missiles are the threats that the world is dealing with today. "The IDF knows the technology for intercepting short range rockets very well, and now laser technology and electromagnetic weapons can be used to intercept short range missiles," he said.
"A laser weapon can shoot down anything that is in the air including aircraft," Ben-Israel explained, adding that it will take about five years for laser technology to be operational in the battlefield.
The chances that a terror group like Hamas could acquire such technology itself are "close to zero," he estimated, but added: "I do not think that the question of whether Hamas can get to this technology is a practical question. However, hypothetically speaking, if Hamas would have such a weapon there would be very little we could do against it. It can be possible to find solutions in electronic warfare against the system, but keep in mind that we would have a very short time at our disposal. There is no armor that can prevent the effect of a powerful laser beam."
IAF Commander, Maj. Gen. Ido Nechushtan, said that "in our reality, those who think better and faster, have an advantage in the battlefield. It is important that we continue to develop technologies that we have yet to invent. We must develop new technologies."
Brig. Gen Rami Ben Efraim, Head of IAF manpower branch, said during the conference that "the idea behind this day is to connect the academia and a practical body such as the Air Force that actually puts research into practice."