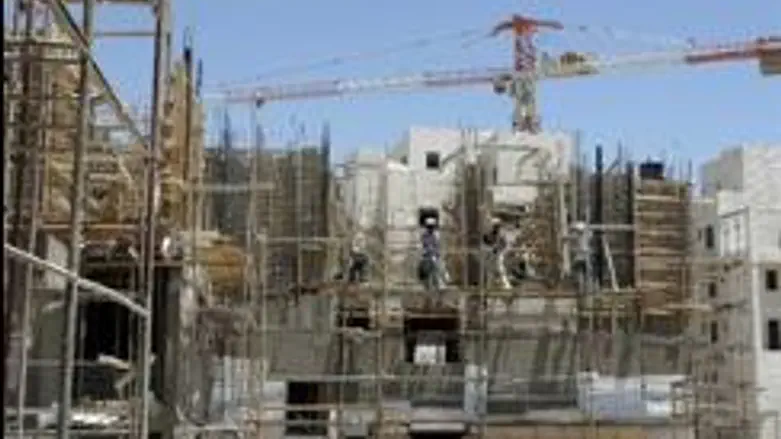 Housing construction in Jerusalem
Israel news photo: Flash 90
U.S. President Barack Obama wants Israel to extend its temporary building freeze for Jews in Judea and Samaria to include parts of Jerusalem, according to the left-wing Haaretz newspaper. However, most Inner Cabinet ministers already have rejected the idea.
Foreign Minister Avigdor Lieberman, a member of the seven-member Inner Cabinet, said earlier this week, "I have not seen anyone among the seven who has consented to this [building freeze]. The past few days have taught me that there is no point to further concessions."
He confirmed that President Obama asked for a building freeze in most areas in Jerusalem where the United States does not recognize Israeli sovereignty. The freeze proposal reportedly would be for four months, ending at about the same the 10-month building freeze in Judea and Samaria is supposed to expire.
In return, the Palestinian Authority would agree to direct talks, which has been PA Chairman Mahmoud Abbas' condition for direct discussions with Israel. He also has presented the Jewish State with demands for recognizing the PA as a country, with Jerusalem as its capital as well as PA sovereignty over all areas of the city that were restored to Israel in the Six-Day War in 1967.
The report was also published in the Washington Post, which claimed the government may reach a "quiet understanding" without formally announcing a building freeze, although it is not known if that would be satisfactory to Abbas. The government has not commented on the report, but other Cabinet ministers have made it clear that stopping construction for Jews in the capital is out of the question.
Benny Begin, a member of the Inner Cabinet, said that even Prime Minister Binyamin Netanyahu's concession to agree to discuss with Abbas the final status of Jerusalem will bring about a hardening in the policy of the Arabs and of the Palestinian Authority.