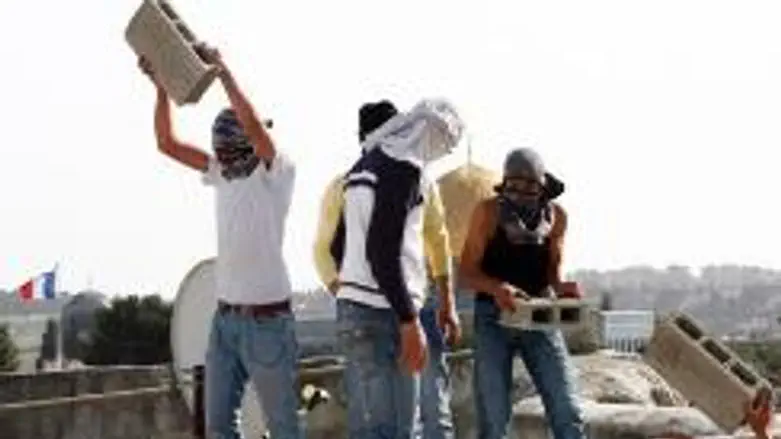 Arabs drop cinder blocks on Old City Jews
Israel news photo: Flash 90
The Organization of the Islamic Conference (OIC) Saturday charged Israeli police with sacrilege for surrounding the Temple Mount's Al-Aqsa mosque on Friday to stop Arab stoning attacks on Jews trying to pray at Western Wall (Kotel). It called for international intervention to "end Israeli aggression."
The Arab attacks on Jews followed a sermon that area residents said encouraged Muslim violence.
Nearly three dozen policemen and Arabs were injured in the clash, and Palestinian Authority Chairman Mahmoud Abbas said the Israeli defense of Jews could spark a "religious war." The OIC accused Israel of an "a sacrilegious act of profanation of the holy Islamic site [that was] "a violation of international law and a flagrant attack on the freedom of religion of the nature that could take the region into a war between religions."
Abbas accused Israel of trying to create a clash before agreed resumption of American-mediated talks for the establishment of the PA as an independent country. One of the PA's demands is sovereignty over the Temple Mount and all of eastern Jerusalem, which it wants as the capital of a new Arab country within Israel's current borders.
The protests spread through Judea and Samaria, with soldiers using rubber bullets, stun grenades and tear gas to stop a violent riot near Ramallah, located several miles north of Jerusalem. At least three people were wounded.
Violence also broke out Friday at the Cave of the Patriarchs, where Jews and Moslems pray in separate rooms.  
On Saturday, the IDF caught an Arab terrorist in Samaria with three homemade bombs, and another terrorist south of Jerusalem attacked Jewish vehicles with a firebomb on Highway 60, one mile north of Gush Etzion.