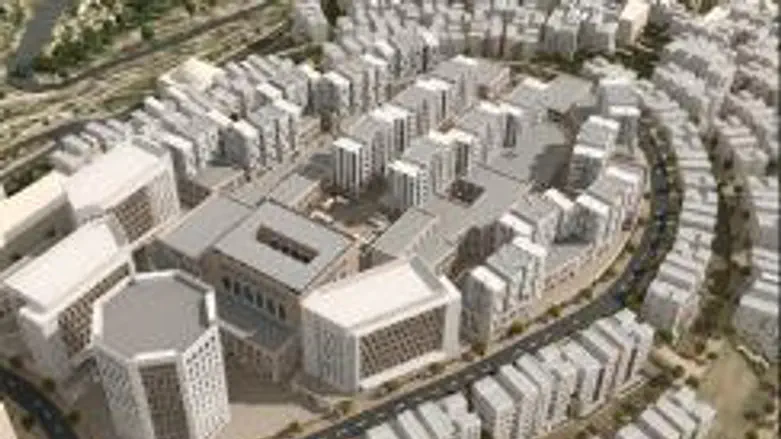 Plan of Rawabi
The residents of Ateret, in the Binyamin region of Samaria, are concerned about the construction of a new, large Arab city across the valley from them.
As Israel National Newsreported on Monday, the not-yet built city of Rawabi – the first planned Arab city in the history of the Holy Land – is in initial construction stages, with 25,000 to 40,000 residents planned for its first stage.
The Jewish town of Ateret, with 100 families, feels threatened. Resident Moti Huminer told Arutz Sheva's Hebrew service, "When I look out my window towards the east, less than a mile away I see the tractors working day and night, seven days a week… In just three weeks, they have shaved off the mountains, and are really working at a speedy pace."
Lots of Questions, No Answers
"I don't expect the work to stop," Huminer said, "but I have lots of questions, and despite having asked local and regional officials, I have not received good answers: I want to know what will happen to their trash and sewage? Arab sewage is already flowing with no supervision in nearby Haramiye; how will an entire city be dealt with? And how will we travel to Jerusalem with another 25,000-40,000 Arab residents on the roads?"
"And what about security? We know from experience that it's not hard for terrorists to fire from that distance onto Jewish towns; are we to live behind high concrete walls?"
Huminer wants to know how Rawabi's water needs will be supplied: "Will they continue to drill pirate wells, like they do now?... Some reports say that Arab residents are supposed to start moving in within just a year; how does this jibe with the freeze on Jewish construction in the same areas?"
MKs Should Come and See
Huminer would like Knesset Members to come and see for themselves: "I don't know if they can actually reach the construction site, because it's in Area A [under full Palestinian Authority control, according to the Oslo Accords], but they can at least come to Ateret and see what's going on. This is not just a village, but rather a full-fledged city. I have a feeling that the MKs and the Cabinet ministers simply don't know the story; everything is hush-hush."
The new city if to be built some nine kilometers (five miles) north of Ramallah. "As of now, there is Arab contiguity from Ramallah to Birzeit," a leading resident of Ateret told Israel National News on Monday, "and this essentially breaks up the Binyamin Regional Council into eastern and western halves. Building an Arab city, of course, deepens this split."