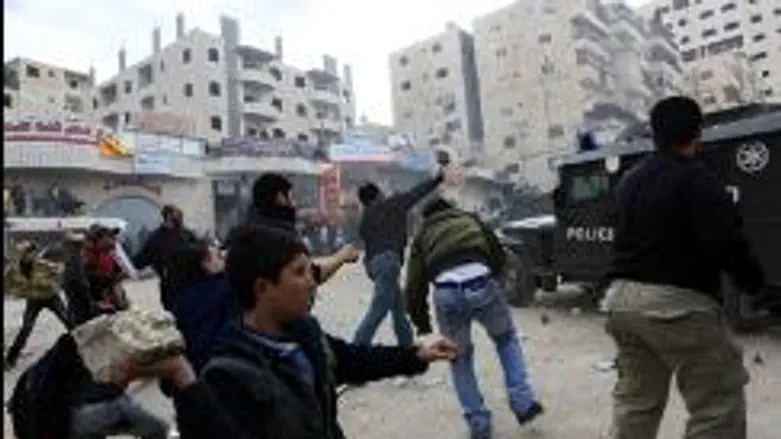 Arabs hurl building blocks at police
Israel news photo: Flash 90
Arabs challenged Israeli authority in eastern Jerusalem on Monday, hurling rocks in violent riots that wounded five policemen, one of whom was hospitalized. Arab journalists also suffered injuries.
The riots followed a large-scale police operation that was aimed at "putting some order" in place in the Arab locality of Shuafat. Police staged house-to-house midnight searches for weapons and for non-resident Arabs from Judea and Samaria staying in eastern Jerusalem without work permits.
Arabs responded by hurling rocks and broken bottles at the police and at soldiers at a checkpoint bordering the area.  The clashes escalated Monday afternoon when Muslim school children joined the violence, also taking aim at nearby Jewish residents.
Police arrested 25 people, about half of whom were wanted for criminal activities, suspicion of tax evasion, or debts to the municipality. Tear gas and stun grenades were used to control quickly ensuing violence.
The mood on the Arab street has grown angrier the past several months, as Arab leaders have discarded the original American proposal that the status of Jerusalem be negotiated between the Palestinian Authority and Israel. PA Chairman Mahmoud Abbas recently called for a resumption of talks with a pre-ordained agreement that the entire area, including the Jewish Quarter in the Old City, will fall under PA sovereignty.
Israel has official authority over eastern Jerusalem, which was annexed in 1980, and Arabs on Saturday protested against Israeli inspections for weapons, terrorists and illegal workers. Arabs called the inspections humiliating.
PA deputy minister for prisoners affairs Ziad Abu Ein charged that the midnight searches were part of an Israeli policy to expel Palestinians from Jerusalem under the guise of security threats.