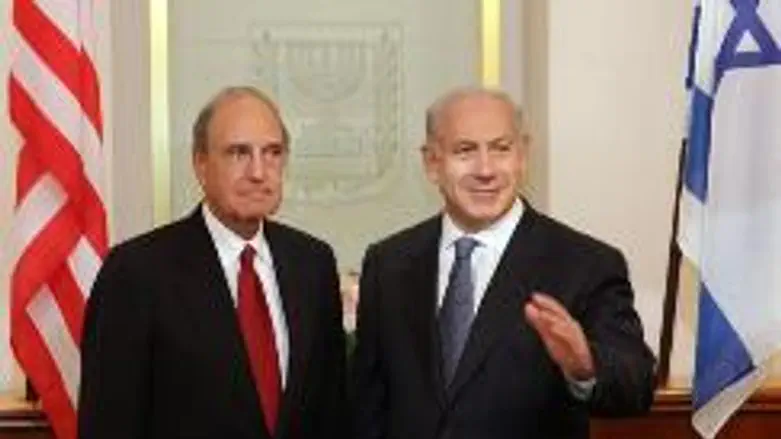 US Middle East Envoy George Mitchell
Israel News photo: (file)
United States envoy to the Middle East George Mitchell arrived in the region this week in efforts to further press the Jewish state into relinquishing territory to the American-backed Palestinian Authority. According to PA sources quoted by the London-based Arabic newspaper
al-Hayat
, Mitchell is unveiling a five-point plan that will force local parties back to the negotiating table and press Israel to retreat back to the Armistice Line that existed between the Jewish state and the Hashemite Kingdom of Jordan between the years 1949 and 1967.
Reflected in Mitchell's new plan is an acceptance of the 2002 Arab Initiative, which calls for a complete Israeli surrender from all lands won in the 1967 Six-Day War and the establishment of a new Arab state in these lands. Mitchell announced last March that the Arab Initiative will be incorporated into the Barack Obama administration's Middle East policy.
Mitchell, who served as a United States Senator and until recently as director of the influential Council on Foreign Relations in New York, has reportedly been coordinating efforts with Arab governments in the region to push Israel into surrendering Judea, Samaria and most of Jerusalem. Such concessions, according to most diplomats, would carry expectations from the international community that Israel forcibly expel hundreds of thousands of Jewish residents from their homes in Israel's heartland after forty years of renewed residence there.
One important feature of the new Mitchell plan is that the status of Jerusalem would be negotiated separately from Judea and Samaria. Israel's capital has become a contentious issue in recent months. Although Prime Minister Binyamin Netanyahu complied with Washington's demands that he ban all Jewish construction in Judea and Samaria, the premier has thus far refused to extend the discriminatory freeze to Jewish building in Jerusalem. The Fatah-controlled PA has used this refusal as a pretext to avoid negotiations and Mitchell's decision to separate Jerusalem in his new plan is seen by many as an attempt to temporarily side-step major points of contention in order to advance Washington's regional agenda, which the new plan shows will include Jerusalem's eventual division.