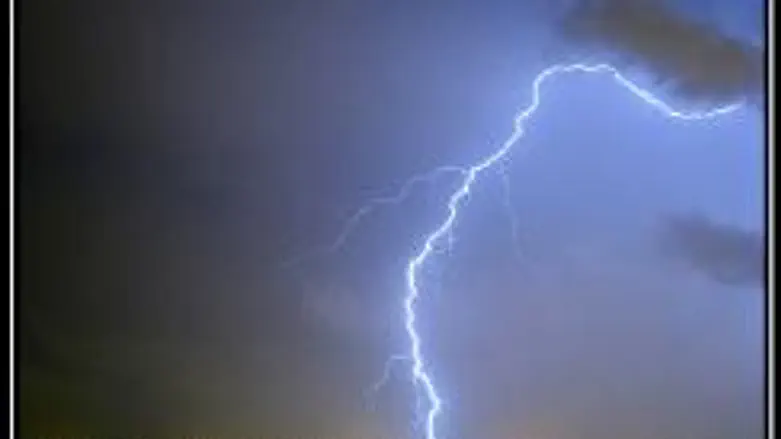 Lightning over western Negev Sunday night
Israel news photo: Tal Barnea
Flash floods are engulfing the central Negev Sunday night as a winter storm dumps rain in amounts rarely seen in the area. "Sound and light shows" of thunder and lightning were seen and heard in the skies over Be'er Sheva, Ashkelon and the southern Hevron Hills, and the rain is driving northward.
The storm began Sunday evening, three days after prayers and a fast day were observed in an appeal to the A-lmighty to break the drought. The badly-needed rain rain began several miles north of Eilat, and one forecast predicts that the total precipitation in the central Negev will exceed the entire amount that fell in the past 10 years.
Heavy rains accompanied by thunderstorms and strong winds, accompanied by a significant drop in temperatures are expected Monday, and the first heavy snow of the season is forecast for the Hermon mountains. A severe warning of flash floods in the south and the Dead Sea area remains in effect.
The storm probably will weaken on Tuesday. Temperatures will continue to drop through Wednesday, when occasional rain will fall over the northern region and coastal plain, with more snow on the Hermon. Light rain may continue to fall on Thursday, with the possibility of a new storm bringing more rain by the Sabbath.
The unusually powerful storm is bringing heavy rain to parts of Egypt, Jordan and Saudi Arabia as well as Israel, and snow may fall on Mount Sinai.
Rainfall in the north is approximately at the normal amount for this time of year, but precipitation in Jerusalem and in the south is less one half to one-third of the average. Israel has been hoping for an unusually wet winter to help the country recover from a several shortfall that threatens to leave the Kinneret (Sea of Galilee) and the underground aquifer system without enough water to supply the country's needs during the dry summer.