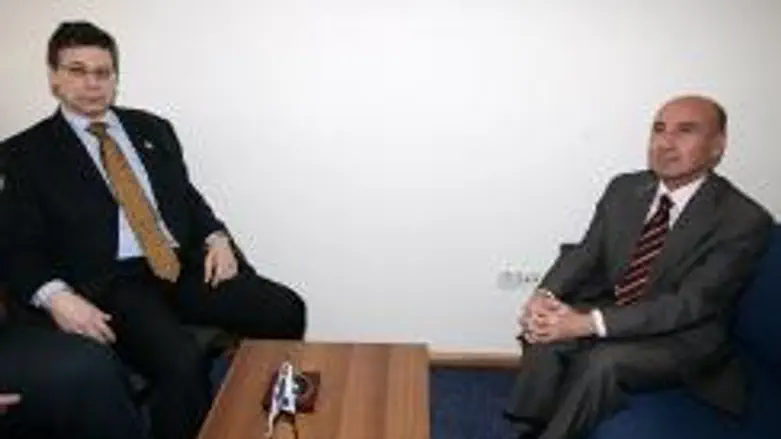 Ayalon and Celikkol
Israel news file (photo)
After a diplomatic standoff sparked by stage directions given by Israel's Deputy Foreign Minister at a pre-meeting photo opportunity with Turkey's Ambassador to Israel, the Deputy Foreign Minister issued an official apology to Turkey on Wednesday. Turkish Prime Minister Recep Tayyip Erdogan accepted the apology, saying "We have received the answer that we had been waiting for."
Deputy Foreign Minister Danny Ayalon had summoned Turkish Ambassador Ahmet Oguz Celikkol on Monday to complain about Turkish TV show "The Valley of the Wolves", which depicts Israeli security forces stealing babies and shooting elderly men.
During the meeting, Celikkol was made to sit on a low couch opposite Ayalon on a higher chair. Ayalon explained to press cameramen present at the start of the meeting – in Hebrew – that this arrangement was intentional. He did not shake the hand of the ambassador in front of the cameras, and only the Israeli flag was represented on the table between them. Videotape shot in such pre-meeting sessions is usually broadcast as a background visual in news reports.
Only after the meeting – and after Israeli press repeatedly broadcast Ayalon's words to the cameramen – did the Turks feel that they had been slighted. Outraged, Turkey threatened to recall the ambassador as a result of the treatment. After a day of deliberation in Israel, a letter of apology was issued by the Foreign Ministry and delivered to Turkish officials in Ankara. 
Prior to this letter, Ayalon issued a statement Wednesday calling his own behavior undiplomatic, but did not use words of apology. Turkey rejected the gesture, threatening to recall its ambassador if a formal apology was not issued.
Contrition
The letter of contrition stressed Ayalon's interest in diplomacy which is "open, reciprocal, and respectful," adding "I had no intention to humiliate you personally and apologize for the way the démarche was handled and perceived. Please convey this to the Turkish people, for whom we have great respect."
In a separate attempt at reconciliation, 17 Israeli Knesset members signed a letter to the ambassador, expressing regret over Ayalon's actions..
While Turkey and Israel have a history of relatively close ties, Erdogan has distanced himself and his country from Israel since Operation Cast Lead a year ago.  Days after the counter-terror operation, Erdogan refused to share a stage with Israeli President Shimon Peres at the World Economic Forum in Switzerland, grumbling "you kill people." He recently accused Israel of threatening world peace. Turkey also canceled Israel's participation in a high-profile military exercise last fall.
Prime Minister Binyamin Netanyahu said initially that he supports Ayalon's protest, but not the "inappropriate style" of the meeting. Netanyahu's office expressed concern over the increasing cooling of relations between the countries.
Foreign Minister Avigdor Lieberman, in a meeting with the foreign minister of Cyprus, told his counterpart, "We have always respected and appreciated Turkey and the Turkish people. That is why we expect reciprocity in the attitude towards us," he said. "We expect Israel to be treated with respect and appreciation. We shall not tolerate anti-Semitic remarks or Jewish libels."