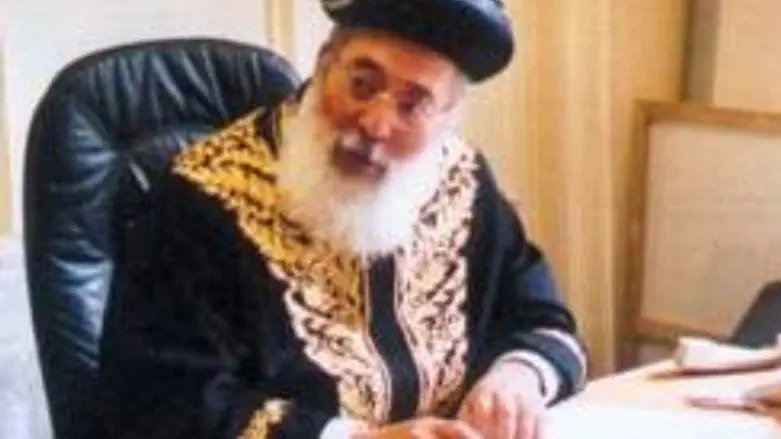 Chief Rabbi Shlomo Amar
Israel news photo
Israel's Chief Sephardic Rabbi (Rishon LeTzion), Rabbi Shlomo Amar has issued a plea to the public to fast and pray for rain as another winter season of paltry precipitation begins to fade away.
In a letter written on official stationery of the State of Israel, Amar explained to the public that most of the winter season has passed without the "rains of blessing", and with Israel's water flow "limited and coming with great suffering," after several years of below average rainfall. "The Kinneret is almost totally dry," he lamented.
Rabbi Amar promised the public that a solution can be found in the collective and individual actions of the Jews of Israel. "It is our obligation in this situation to look inward and to actualize [good] deeds, to draw near to G-d with all our hearts, and to pour out our pleas to Him with a broken and forlorn heart."
Rabbi Amar called on all those who care about the continued presence and success of Jews in the Land of Israel to fast and pray on Thursday, the 28th day of Tevet. Those who have difficulty fasting, he says, should fast at least half the day. He also encouraged Jews to congregate in synagogues to say Selichot (penitence) prayers and Psalms.  
If the Jews do these things, Rabbi Amar says, "the great G-d will not reject, He will hear His poor ones, He will see His impoverished ones and hear our prayers, and will fulfill our requests with kindness and mercy, return His winds and waters will flow… with mercy on our nation and on the inheritance of our fathers."  
He finished the letter with a blessing given by the patriarch Isaac to his son Jacob (Genesis 27:28): "And He will give [us] from the dew of heaven and the fat of the land, and bounty of grain and the vine." He also included a special prayer to be said for rain upon opening the Ark of the Torah in synagogue.
The rains which have fallen this year are not enough to even begin to refill Israel's primary water source, the Kinneret (Sea of Galilee). Water authorities in charge of measuring the Kinneret have been on strike since the beginning of the rainy season, leaving the exact water levels unrecorded.
To view the letter and included prayers for rain, click
here
.