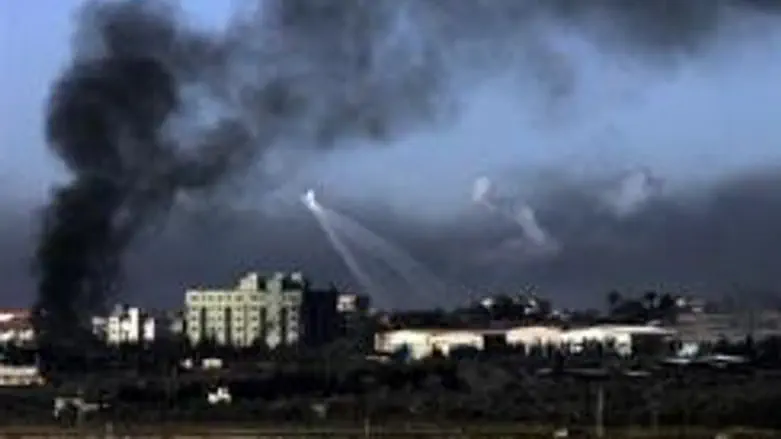 Air Force strikes in Gaza
Israel news photo: Flash 90
The IDF Thursday night bombed terrorist targets in Gaza, including near Gaza City, in the strongest retaliation against mortar and rocket attacks on Israel since the end of Operation Cast Lead a year ago. At least two terrorists were killed, and three tunnels and a weapons factory were successfully targeted. Hamas officials said four other terrorists are missing.
One of the tunnels was in central Gaza and was intended to be used for infiltration into the western Negev in order to execute a terrorist attack against Israeli citizens or IDF soldiers. The tunnel was dug approximately half a mile from the Gaza separation barrier.
Two other tunnels had been used for smuggling weapons under the city of Rafiah, which straddles the Egyptian border. Military intelligence officials have estimated that Hamas has rebuilt its terrorist infrastructure since the end of Cast Lead and that dozens or even of hundreds of tunnels have been built.
The IDF's swift counter offensive was in response to a massive terrorist attack on the Western Negev, sending people back into the trauma they have suffered for more than nine years. Twenty-four hours before the latest barrage on Israel, Southern Command Major-General Yoav Galant said the Cast Lead offensive was so successful that "we did not experience such a quiet period in the last decade."
However, he also warned Gaza Belt residents, "We must be wary that the horizon is not yet safe, and we are preparing for the worst if it so happens."
More than 280 rockets and mortars were fired at Israel since the end of Operation Cast Lead until Thursday, when Hamas and allied terrorists fired more than 10 mortar shells and a rocket at Gaza Belt areas. No one was wounded and no damage was reported.
The mortars were fired almost immediately after Defense Minister Ehud Barak announced the anti-Kassam Iron Dome system had successfully passed critical tests and would be operational before next year. Hamas issued a statement that it can overcome the system, which is designed to intercept short range missiles. It claimed that Iron Dome is designed for missiles that are more conventional than the Kassam rocket. One other problem with the system is its cost of $30,000-$40,000 for each unit, compared with the low cost of manufacturing thousands of homemade mortar shells and Kassams.
The terrorist attacks, which included an anti-tank missile, forced Israel to shut down the Kerem Shalom crossing, one of the points of entry for humanitarian goods into Gaza. The same location was the target of terrorists in June 2006, when they attacked an IDF checkpoint, killed two soldiers and kidnapped soldier Gilad Shalit.
Negotiations for his return once again have hit snags, while his physical and psychological condition remains unknown. Hamas has refused to honor the Geneva Convention that requires visits by Red Cross officials.