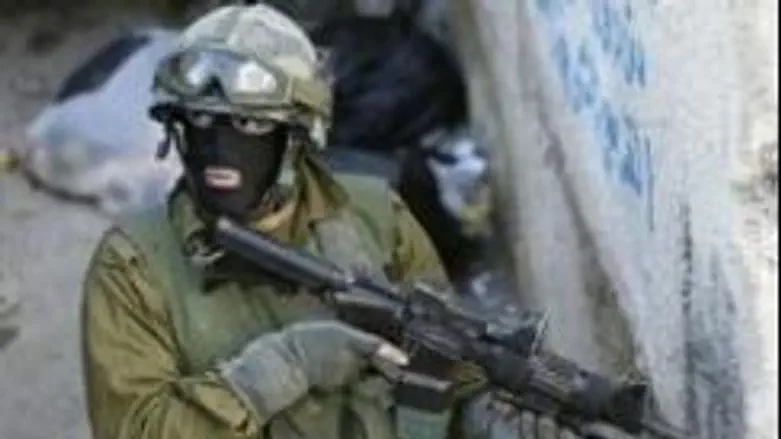 IDF soldier
Israel news photo: Flash 90
The United States has demanded clarifications from Israel after IDF special forces killed three terrorists Saturday who murdered a civilian, Rabbi Meir Chai, on Thursday.
Calls were made to National Security Adviser Prof. Uzi Arad, apparently by senior U.S. Administration officials, in which he was asked to provide clarifications. The calls came from the United States after Palestinian Authority officials complained to the Americans that the IDF had carried out "executions."
Arad informed the White House of details of the counterterrorist raid and rejected the PA officials' claims.
The left-wing group B'Tselem also made a public demand that an investigation be launched into whether the IDF "executed" two of the three terrorist murderers. The self-acclaimed human rights group said that an initial inquiry it conducted at the homes of the dead killers indicated that they were executed.
Family testimony
The group said that the family members of two of the terrorists had told them that the terrorists were not armed and did not try to escape, nor did IDF soldiers try to arrest them. Rather, they said, the soldiers shot them at close range when their identity was confirmed.
The IDF denied these allegations.
A senior IDF officer said Saturday night that the security forces received accurate and focused information regarding the whereabouts of the terror cell's members. Forces from the Judea and Samaria Brigade, together with the Nachshon Battalion and the Duvdevan Battalion, were sent to the locations and conducted a three-hour long chase after the terrorists. One terrorist hid inside his home and sent his wife as a human shield to the front of the home.
"After the IDF operated on all required levels and using all means to arrest him," the officer said, "and when he did not respond to the loudspeaker, nor to the means of riot dispersal and additional means, and in the knowledge that the man was armed and dangerous, a decision was made to open fire."