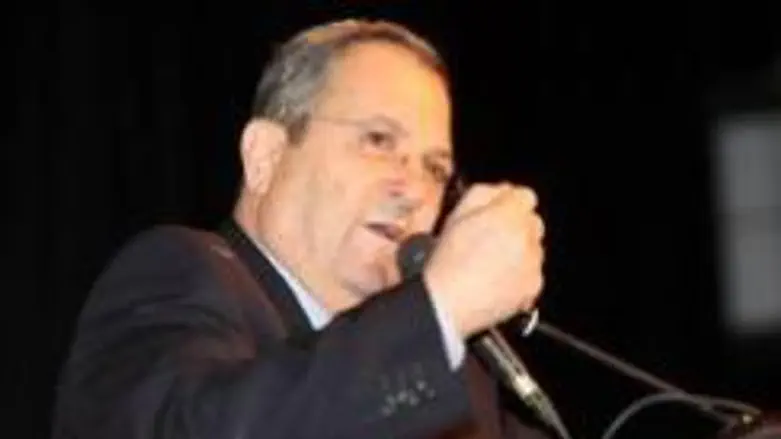 Ehud Barak
Israel news photo: Flash 90
Defense Minister Ehud Barak said Tuesday that the IDF's cooperation with the Har Bracha Hesder Yeshiva was over. He made no mention of the fact that the yeshiva's dean, Rabbi Eliezer Melamed, signed a declaration against political protests in the military – an act which Hesder yeshiva deans hoped would mollify the minister's anger at Melamed.
"After two attempts to demonstrate within the army, it turned out that there is a yeshiva whose head openly preaches for refusal of orders, and is unwilling to denounce acts of protest within the IDF," Barak said in a speech before high school students in Rishon LeTzion.
"One of the foundations of a democratic state is a monopoly on the use of force on the one hand; on the other is the state's authority over the citizens," he lectured the students. "The citizens express their stances through political activity and the ballot box. The State has an army and the army is under the authority of the State, and of no other body."
"The idea of a military and refusal to do army service are not compatible, and we do not intend to accept this," Barak went on. "This must be clear everywhere. After studying the case and reading the recommendations of the heads of the IDF, I reached the conclusion that the right path is to end the Hesder [arrangement] with this particular yeshiva. Make no mistake, the Hesder yeshiva boys are the IDF's finest soldiers, in all units, and have been for decades. They are also a very important core group in the reserve force afterward. They are excellent people, but just as one should not make generalizations, we should not shut our eyes where there is unworthy and improper behavior.For this reason, the arrangement with this yeshiva is finished. Soldiers from all the other yeshivas are received with a blessing [an apparent pun on the word bracha, or blessing, which is part of the name of Har Bracha – ed.].   
Barak also hinted that IDF soldiers would continue to participate in evictions from outposts. "We are not the only country in the world in which the army is called upon to carry out civilian assignments. When a state reaches the place in which it needs to enforce the law on citizens, in has no choice but to use its army. This instruction must also be carried out and obeyed, this is the true basis of democracy."