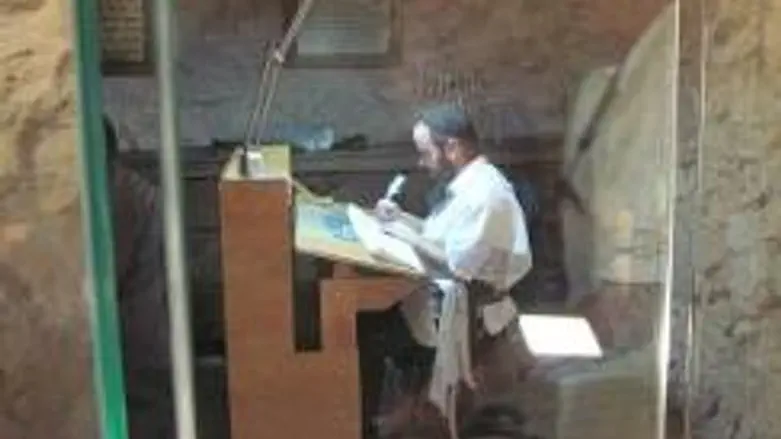 Behind Glass: Scribe at Work
Israel news photo: Chabad of the Dead Sea
A ritual scribe has begun spending his days behind a glass wall in the famous Masada synagogue – writing a Torah scroll to be installed there.
The young scribe, Shai Abramovitch, moved from the northern city of Tzfat, together with his wife and three young children, to the Negev city of Arad, in order to be able to carry out and complete the project. He will make the 45-minute Arad-Massada trek each morning after immersing in a mikveh (ritual bath) – a customary prelude to ritual scribes' work – and will return after seven and a half hours of painstaking writing.
His glass-enclosed"office" is in the very spot used as a synagogue by hundreds of Jews who found refuge from the Romans on Masada some 2,000 years ago. Hard at work throughout the day, the scribe can be seen through the glass by the many tourists who visit the famous site.
Rabbi Abramovitch's job "is not easy," commented Rabbi Shimon Elharar, director of the closest Chabad chapter, Chabad-Lubavitch of the Dead Sea. "There are at least 800,000 people a year who come through that synagogue, and he will be working in a place designed somewhat like an incubator. It's a little like working in an aquarium."
In addition, scribe Abramovitch takes a break a few times a day to come out and explain the holy work of writing Torah scrolls, tefillin, mezuzot and more.

The Driving Force
Rabbi Elharar gives credit to Eitan Campbell, director of Masada National Park, for being the "driving force" behind bringing Jewish ritual back to the historic site.
Work on the Torah scroll, which began on Chanukah and is scheduled to be completed in a year, is being sponsored by an American donor who wishes to remain anonymous, together with Chabad. A gala installation ceremony of the new scroll in the ancient synagogue is planned for next Chanukah.
Some time in January, the donor is scheduled to arrive in Israel and will install an internet video connection, so that the work can be tracked, letter by holy letter, in real time.
Crews prepared a room in which to write the scroll earlier this month by installing a special climate control system, a scribe's table, and a secure storage area for his supplies and the progressing Torah.
photos courtesy of Chabad of the Dead Sea