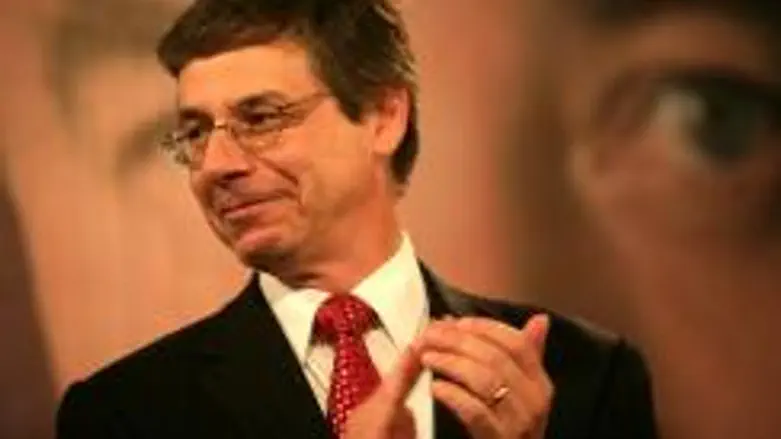 Dep. FM Danny Ayalon
Israel News Photo: (file)
Jews should be dispersed throughout the Negev and other peripheral areas in order to take control of area lands and counter Arab occupation. That was the message being promoted Tuesday at the full-day conference initiated and hosted by Deputy Foreign Minister Danny Ayalon, "The Realization of Zionism: Strengthening the Periphery."
The day's events featured speeches and panel discussions led by Knesset Speaker Reuven Rivlin, Foreign Minister Avigdor Lieberman, Public Security Minister Yitzchak Aharonovitch and others. Ayalon, who was scheduled to speak on the topic from the Knesset plenum, took time to speak with INN TV about the special day in the Knesset he had initiated.
Ayalon said he came up with the idea after he conducted visits to the Galilee and the Negev. "I was amazed to see that we are losing the Negev and the Galilee," he told participants. 
"In many places there is no contiguous Jewish presence, and there is past experience in which we expel Jews from lands, and then transfer the area to authorities who are not Zionists and don't strengthen the State of Israel.
"Our strategic reserve is not in Tel Aviv and not between Gedera and Hadera, it is in the Negev and the Galilee, and in Judea and Samaria," Ayalon said.
"The focus for today is to Judaize the Negev and the Galilee. If there won't be a Jewish majority in the Negev and the Galilee," he warned, "it could lay the groundwork for a legal national claim by Arabs, either for autonomy or secession from the State of Israel."
The morning began with an Interior Committee meeting on the issue of handling crime and police policy in the periphery, and was followed an hour later by three simultaneous committee meetings. The Constitution Law and Justice, Absorption and Immigration Affairs and Economics Committees all met separately. Each group discussed issues pertaining to their specific areas of expertise as they related to the periphery areas such as the Negev and the Galilee.
Among the topics discussed were amendments to laws, aliyah projects and development and promotion of tourism to communities in the periphery. At noon, the Education, Culture and Sports Committee met to discuss Zionism, and its role in promoting the periphery. The entire afternoon schedule, however, was left open in order to expand the earlier discussions of how Zionism could be used to strengthen communities in the periphery.
During the conference, Balad Knesset Member Jamal Zahalka accused Ayalon's Yisrael Beiteinu party of being "racist", prompting the Deputy Foreign Minister to respond: "We are a Jewish state by virtue of our right to be here."