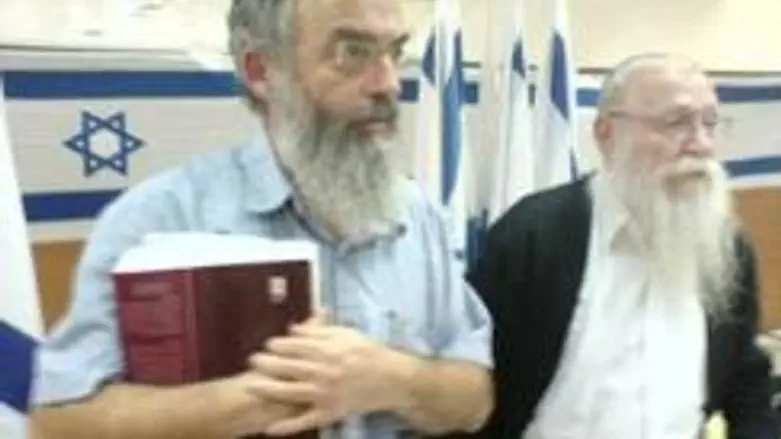 Rabbi Stav and Rabbi Drukman
Israel National News
The Hesder Yeshivot Union heads, convening in Ohr Etzion on Sunday for some six hours in the wake of the removal of Yeshivat Har Brachah from the Hesder arrangement with the army, have come out against protests in the army, but demand that Har Brachah be reinstated and that soldiers not be used for demolish-and-evict activities against Jews.
The Union issued the following statement:
1. All the heads of the Hesder yeshivot unambiguously negate all demonstrations in the IDF, out of a desire to maintain the cohesiveness and unity of the IDF. We reiterate our admiration for the security establishment, for the IDF and its commanders who are engaged in the sacred work of defending and protecting the State of Israel and its citizens.

2. Out of a responsibility towards the preservation of the IDF's cohesiveness, we once again demand that the security establishment not involve IDF soldiers in missions of a civilian nature.

3. Based on these understandings, we call for the reinstatement of dialogue with the IDF and the renewal of the glorious tradition according to which all decisions having to do with the Hesder are coordinated with us.

4. The Defense Ministry's decision to cancel the Hesder arrangement in Yeshivat Har Brachah is grave, and creates a grave split in the IDF and in the nation.

5. The Hesder Yeshivot Union will do all it can to restore the Har Brachah situation to what it was before.
Asked to elaborate, Union spokesman Rabbi David Stav said that the Union would do "everything" to solve the Har Brachah situation, "including turning to politicians and to the courts."
Rabbi Chaim Druckman, chairman of the Union, said that all of the Hesder yeshivot were represented at the meeting, "out of the sense of great responsibility that is upon us. There was unanimity regarding the importance of our links with the army as they existed over the past 50 years with total cooperation."
"We insist that Yeshivat Har Brachah remain in the Hesder arrangement," Rabbi Druckman said. "We hope that this negative situation will result in positive results, and we hope that the cooperation will continue."
"Rabbi Eliezer Melamed came out a hero," said one observer. "The rabbis have returned to the ball to [Defense Minister Ehud] Barak's court, and if he doesn't reinstate Har Brachah, the other yeshivot don't plan to remain quiet; they will even take the matter to the courts."
It was not clear if this was the understanding of all the yeshiva heads, however. Earlier in the day, at least one of them said that his yeshiva would likely leave the Hesder Union if a statement clearly emphasizing the primacy of the yeshivot over the army leaders was not issued.