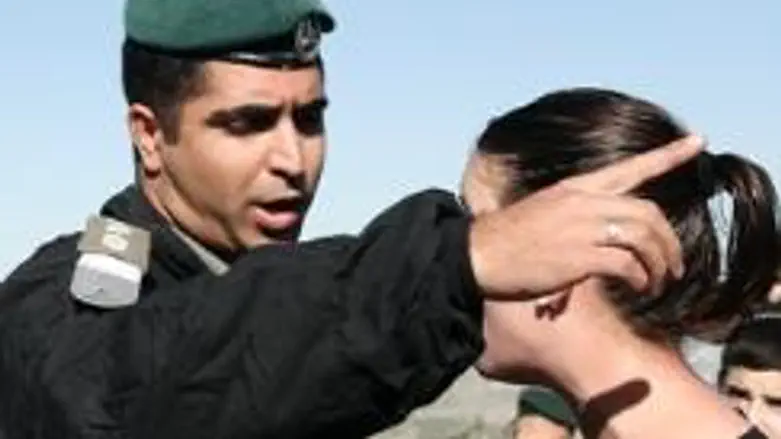 Border Policeman and protestor
Israel news photo: Flash 90
Border police officials have admitted that a security office acted improperly when he threw out a recruit after asking him if he would expel friends and family from his own community in the southern Hevron Hills. Senior Border Police officials, after hearing the report about the youth, identified as "E", invited him for another interview and accepted him for basic training.
The youth wants to serve in a commando unit that searches for and arrests terrorists in Judea and Samaria, an entirely different and more elite unit than the "Yassam" police who expelled Jews from their homes and break up protests, often violently.
Acquaintances said the recruit was in shock after a security officer asked, "You live in Susiya? Would you carry out expulsion orders there?"
After "E" replied, "I never thought about that. It is very complicated. I have to think about that," the officer abruptly said, "You are finished. You cannot be in the Border Police." The youth returned home insulted and shocked at the questioning, friends related.
The youth lives in the community of Susiya, located approximately three miles north of the pre-1967 border, north of Arad and Be'er Sheva. His father, Chaim, told Israel National News the decision was his son's. "I was hoping he would take an easier route, but he asked me for advice, and I said, 'It's your decision,'" he explained.
After his son was thrown out of the recruiting office, his father called the military correspondent for Voice of Israel govenrment radio, whose report caused Border Police officials to reconsider the case. Border Police spokesman Moshe Finsi explained to Israel National News that the question was proper but that the security official did not have authority to decide to reject "E."
The youth's family praised the Border Police for calling them personally and for correcting the mistake. Finsi said, "I met the young man and I wish we had many more like him who want to contribute to the country."
Asking national religious soldiers if they would expel friends in their own communities was common immediately preceding and after the expulsions of nearly 10,000 Jews in Gaza and northern Samaria four years ago but later was deemed improper by military officers.
Finsi explained that the Border Police have no choice but to ask recruits about their capability to accept orders because that is one of their functions. "We do not choose what orders to accept, and we cannot accept officers who refuse orders," according to Finsi.