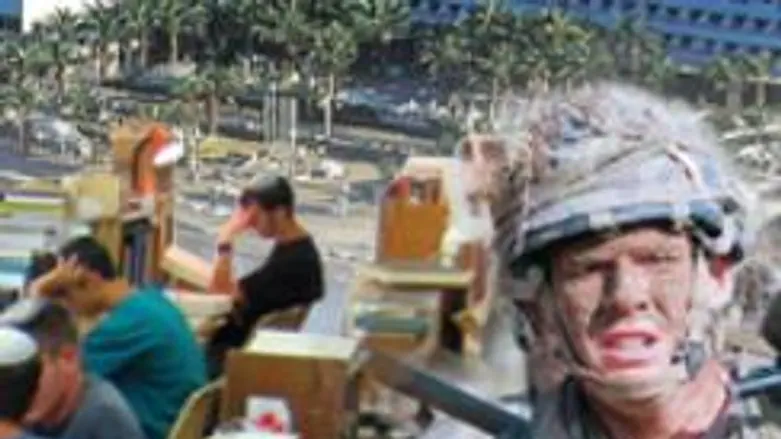 Hesder: sword and study
Israel news photo: yahr.org
Following reports that Rabbi Eliezer Melamed would be summoned for a Defense Ministry "hearing" on his stance on refusing orders, the rabbi says he agrees to meet in a "dignified and mutually respectful" manner.
Students of the rabbi, who heads the Har Brachah hesder yeshiva in the Shomron, said he would be willing to meet with Deputy Defense Minister Matan Vilnai – but only on condition that it not be a "hearing," but rather in a "calm, respectful and frank manner." Rabbi Melamed said he would be happy to host Vilnai in the yeshiva itself "so that he [Vilnai] could get a feel for himself of the yeshiva."
Hesder yeshivot such as Har Brachah and nearly 40 others around the country provide a solution for roughly 2,000 students who don't wish to be forced to choose between full-time Torah study or full-time army service. The hesder students enroll for a five-year program of 16-18 months of army service and the remainder in Torah study.
Some top army generals have called for the yeshiva to be either closed down or for it to be removed from the hesder program, following accusations by Rabbi Melamed that the top army brass was "replete with careerism and tainted by corruption," and that military orders for the demolition of Jewish homes are anti-Torah and need not be adhered to.
Though some hesder yeshiva heads do not agree with Rabbi Melamed's stance, the organization representing them is fighting for his right to speak out without threat of being silenced.
In addition, voices of support are being heard from other directions as well. MK Ze'ev Elkin (Likud) praised the hesder yeshiva movement and said, "We will not allow anyone to touch this great enterprise. Those who wish to threaten and give ultimatums to the yeshivot is invited to first deal with the manifestations of refusal in the universities."
MK Tzion Pinian (Likud): "There will be no silencing of one sector, while another one can say what it likes even when it harms the State. I am against refusal, but it is inconceivable for the Defense Minister to harm the people who are the most loyal to the State and who produce such great soldiers… If there is a dispute, it should be resolved peacefully."
MK Danny Danon (Likud): "Barak is conducting a witch-hunt, forgetting that these institutions produce the security forces' top commanders and fighters. Instead of fighting Hizbullah, he chooses to fight the leadership of the Zionist residents in Judea and Samaria."
Cabinet Ministers Eli Yeshai (Shas) and Daniel Herskovitz (Jewish Home) have written letters to Barak protesting his implied threats against the hesder yeshivot.