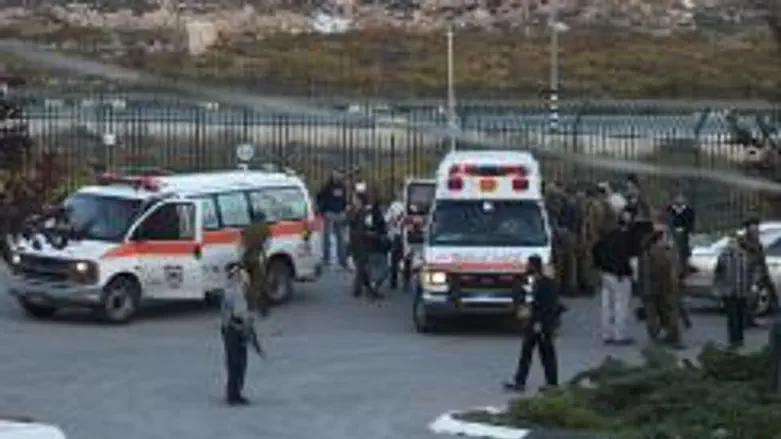 Scene of the stabbing at Kiryat Arba
Israel news photo: David Wilder
First response to the government's construction freeze: A Palestinian terrorist attacked Jews with a knife at the gas station in Kiryat Arba, near Hevron, wounding a man, 45, and a girl, 16. The terrorist was shot and killed by a soldier and a guard; the soldier is of the Nachshon Regiment, which was in the news recently for signs waved by some of its members against being used to remove Jews from their homes.
The woman and man are reportedly in light condition. A Magen David Adom emergency crew arrived quickly on the scene, as did police and army forces.
Part of a road between Kiryat Arba and Hevron, known as Worshipers' Path because it is frequented by Jews on their way to pray in Hevron, was recently opened to Arab traffic - despite warnings by residents that it would increase security risks.
MK Michael Ben-Ari (National Union) was quick to respond: "This attack is the Arabs' way of saying 'thank you' to Netanyahu and Barak for freezing the construction. We have always known: Whoever gives in to terrorism, ends up being pursued by terrorism." The Hevron Jewish Community issued a similar statement.