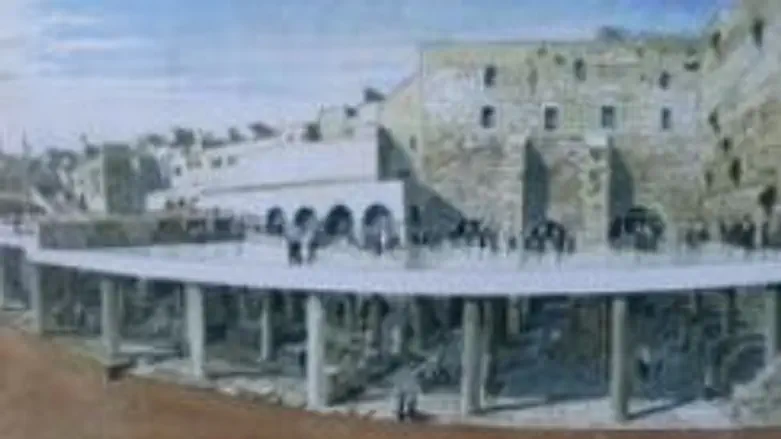 Planned Kotel archaeological park
Israel news photo: Antiquities Authority
Israel is planning a major archaeological dig under the Western Wall (Kotel) plaza, opposite the Temple Mount, officials announced Thursday. The excavations will create an archaeological park directly underneath the area where worshippers currently stand while praying at the Kotel.
The current prayer area will remain open, supported by pillars, while a new area will be added underneath, at the level at which worshippers at the ancient Temple stood in the past.
The dig may be met with harsh reactions from Muslim and Arab leaders in Israel and the Palestinian Authority, many of whom have accused Israel of attempting to damage the Al-Aksa Mosque on the Temple Mount. Jerusalem-area Muslims recently rioted for several days after it was rumored that "Jewish settlers" had planned to pray on the Temple Mount.
The Government Press Office gave foreign journalists a tour of Kotel-area excavations this week. The tour, ostensibly an apolitical opportunity to view new historic findings, appeared to be aimed at countering Muslim criticism of Israeli excavations as well. See drawing of planned archeological park
A reference to Salah
Kotel Rabbi Shmuel Rabinovitch met with the journalists and criticized religious leaders who use the Kotel excavations as an excuse for violence. When asked, the rabbi said that he was referring to Sheikh Raed Salah, among others. Sheikh Salah, leader of the extremist Islamic Movement, has been involved in many of the anti-Israel riots centered around the Temple Mount.
Rabbi Rabinovitch informed the reporters that Jewish law forbids digs directly underneath the Temple Mount, where the Al-Aksa mosque is located. Digs take place around the mount, not beneath it, he said.
The journalists also met with engineers and others involved in the archaeological digs, who assured them that despite accusations to the contrary, Israel's excavations do not cause harm to structures in the area. In fact, they explained, the excavations have improved structural stability in the Temple Mount area, as they led to discovery and strengthening of areas in which there was a danger of collapse.
Maayana Miskin contributed to this report.