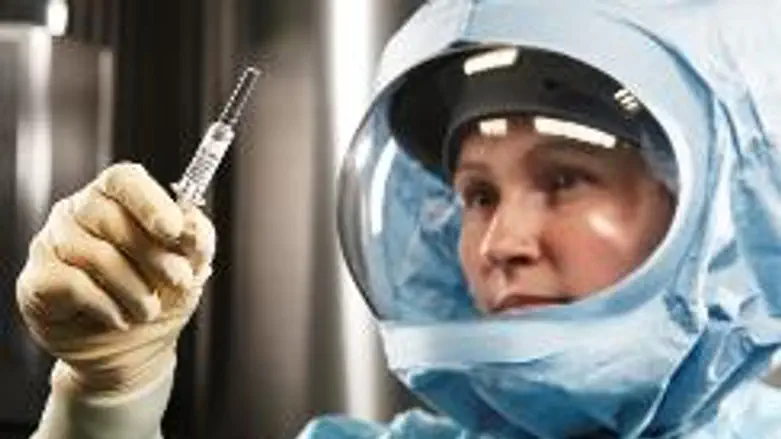 Swine fle vaccine being developed
Israel news photo: Novartis
The Israeli biotech firm BiondVax reports it has successfully tested a swine flu vaccine. The results are based on work with rats, and the company warns there is no evidence yet as to whether it will work on people. Nevertheless, investors raced to buy the stock on the Tel Aviv Stock Exchange before trading was suspended Tuesday.
BiondVax said the tests, conducted on five rats, were based on a sample of a dead strain of the swine flu taken from human beings.
The biotech firm is based in Rehovot, in the Weizmann Science Park. Its offices said they have been swamped with phone calls from individuals, institutions and media, and its president Dr. Ron Babekoff was not available for comment.
The company's website states that its core operations are a multi-season intranasal flu vaccine using an innovative scientific approach, with the aim of activating the human immune system "in a long-lasting and effective manner against known and future strains of the influenza virus."
Shares of BiondVax soared more than 1,200 percent this year, sharing a stock market boom among Israeli biotech firms.
The D-Pharm company, which develops drugs to treat brain disorders, began trading shares this month and they immediately jumped 60 percent. Its most advanced product is for patients who have suffered an acute stroke.
The Rehovot-based Bio View firm has gained 500 percent this year. It is developing a non-invasive diagnostic test for the early detection of lung cancer.
Shares of Biotech company BioCancell Therapeutics Ltd., which is developing drugs against cancer, have also risen 500 percent. The U.S. Food and Drug Administration recently granted its drug "orphan drug status," meaning that the product is protected from competition for seven years.
Bio Light Israel, which has received approval for laser-based therapy for treating glaucoma, has seen its shares go up 1,000 percent since the beginning of the year.