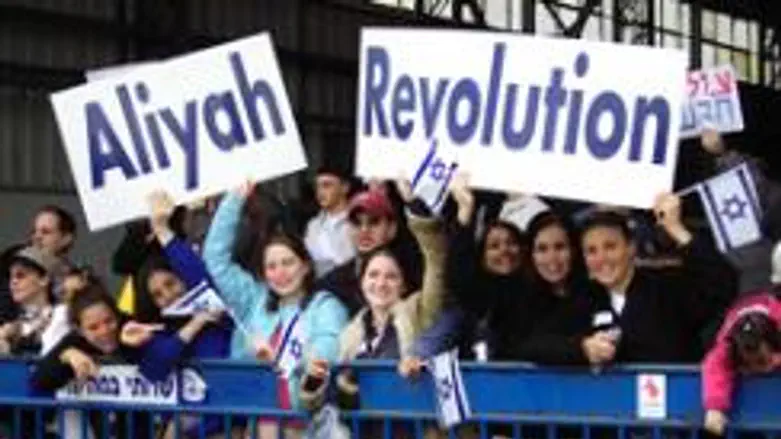 Israel economy attracts new US immigrants
Israel news photo: courtesy of Kumah.org
The ideological bottom line may remain the same, but those looking to Aliyah may finally have large financial incentives to cross the ocean.
"For the first time in history, the Israeli economy is looking better than the American economy", says Danny Oberman, executive vice president of operations at Nefesh B'Nefesh. A leading organization which finds and assists Jews wishing to make Aliyah [immigration to Israel], the group has reported an average of 25 new inquiries each day from people looking to begin the application process. "We are seeing an unprecedented level of interest from North America," says Oberman, "and it's not just people who have lost their jobs but people who don't see a serious upside in the near future."
Click here to hear interview with Oberman.
For young singles and couples, the advantages afforded by Israel's current economic edge are especially appealing. The job market is wider for recent university graduates, and families with young children can find more affordable Jewish or college education in Israel than back in the U.S. and Canada. Israeli health insurance, free for between the first six to 12 months for new arrivals and amounting to $50 to $100 a month after that, is also a cheaper option than many health insurance plans in the U.S.
Immigrants also are given a discount on car purchases and are eligible for free education if they are under the age of 27. For those generating income from overseas, no taxes are taken for the first 10 years of residence. These lower costs, combined with an overly burdened and strained American economy, are enticing more North American Jews than ever to emigrate.
In 2008, Nefesh B'Nefesh reported that 3,000 immigrants to Israel were from North America. This year, the organization is expecting upwards of 4,000.
"What we're seeing is…people who had considered Aliyah, people who had visited Israel in the past, people who had a connection, but who stayed in North America because they were doing well; they were comfortable," says Oberman. Now, however, with Israel faring considerably better in the global economic crisis, families are in a better position than before to line up their ideological and fiduciary concerns.
"Anybody who has visited here has seen that the opportunities here, and the ways kids are brought up and the social environment is different than North America. It's a healthy environment… For anyone who's looking for a different set of values, Israel's definitely an option."