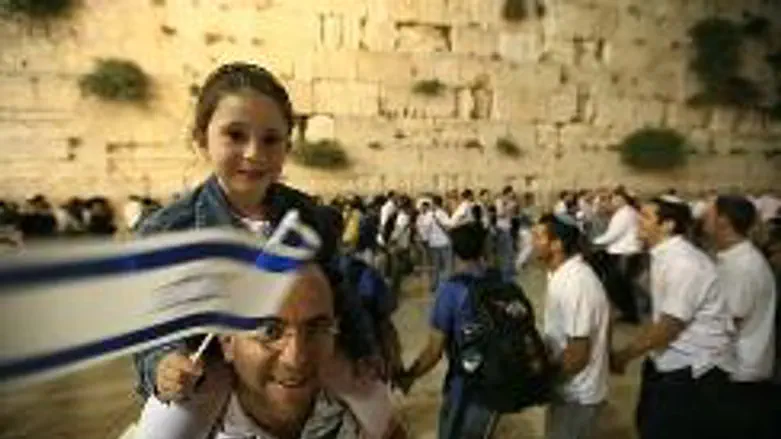 Jerusalem the Undivided
To consider dividing Jerusalem is a "pathetic failure of imagination," says Prof. Uzi Arad. "Given the city's significance, it is unthinkable to split it up merely to solve a tactical problem."

Email readers, click here to watch video of Dr. Uzi Arad and Dr. Dori Gold
Prof. Arad is a former Director of Intelligence for the Mossad, a professor at the Interdisciplinary Center in Herzliya, and head of the Institute for Policy and Strategy. He was one of several speakers at a special session on Tuesday at the 6th Jerusalem Conference, entitled, "Will Jerusalem Remain Israel's Eternal Undivided Capital?"
He shared the speakers' panel with Jerusalem Mayor Nir Barkat, Ambassador Dore Gold, Dr. Eilat Mazar, Nissim Arazi, and Dr. Mordechai Kedar.
Mayor Barkat
Mayor Barkat began by outlining his plans to help Jerusalem overcome its many problems and regain its rightful position as one of the world's leading cities. "I no longer need to talk about what should be done," the recently elected mayor said, "but rather about what we have already begun to do. The main challenge is to retain the Jewish majority in Jerusalem; 15 years ago, we were 75% of the population, and now we are only 65%... 17,000 Jews leave each year… We are also the poorest city in Israel…"
"But our potential is tremendous," Barkat said. "A third of the world wants to come here. Our strategic goal is to reach 10 million tourists each year, which will provide 100,000 new jobs…"
Barkat, who was elected by virtue of an alliance with secular, national-religious and even hareidi-religious voters, said it is imperative to work together: "The first thing I did after being elected was to build a broad municipal governing coalition – not as a tactical move, but because we absolutely need a broad and united social base in order to accomplish our goals… We also have to work together with the national government, the private sector, and philanthropists, as well as with our satellite cities in areas such as transportation infrastructures, sewage, trash disposal, and the like."
Barkat emphasized that the participation of all who are concerned with Jerusalem's future is needed: "Now is not a time to just sit back and criticize; everyone must find the niche in which he or she can contribute to making Jerusalem the great city it can be."


To speak of dividing Jerusalem as a solution for something is simply pathetic. The idea of splitting Jerusalem doesn't come near the special historic and other significance that this city holds!


Uzi Arad
Prof. Arad then provided a historic perspective on Jerusalem, explaining why the city is uniquely bonded with the Jewish Nation: "We must recognize that there were many other cultures and peoples in this city before us… However, the Jewish Nation has a particularly unique connection that is unparalleled by any other city in the world. For instance, our two major wars – in 1948 and 1967 – centered around Jerusalem, and many Jews from outside Jerusalem fought and died for it… There is something about the city that unites the entire nation - historically, religiously, and otherwise....
"Therefore," Arad concluded, "to speak of dividing Jerusalem as a solution for something is simply pathetic. The idea of splitting Jerusalem doesn't come near the special historic and other significance that this city holds! It is a failure of imagination of incredible proportions. It is totally unthinkable to consider dividing Jerusalem merely to solve some tactical problems."
"Even from a practical standpoint," Arad said, "it simply cannot work. It would cause more problems than it would solve."
Arad noted that Israel has a stronger case to retain Jerusalem than we sometimes give ourselves credit for: "We have more Public Relations weapons than we think. For instance, there is now a concept in the world called 'earned sovereignty.' Sovereignty is no longer just something that the United Nations grants. Rather, it can also be based on the investments made by a people, its rights, etc. We have earned our sovereignty in Jerusalem in many ways – for instance, by granting freedom of religion and of access to holy sites to all religions. It would not be the same under Moslem control... In addition, we have had long had a Jewish majority here. And there are more… We must continue to earn our sovereignty here, for example by running the city properly, and we must recognize these ideas, and we must publicize them…"
Dore Gold
Dore Gold, Israel's one-time Ambassador to the United Nations and President of the Jerusalem Center for Public Affairs, bolstered the listeners' spirits by assuring them that the recent Olmert-Abu Mazen talks on Jerusalem need not obligate the incoming government.
"The only thing that obligates a government is an agreement made by the government and ratified by the Knesset," Gold said. "No one is obligated by diplomatic chatter. The late U.S. President Reagan once raised the possibility with Russia's Gorbachev of doing away with all nuclear weapons; can you imagine Russian President Putin telling Obama today that the U.S. once said it would do away with all nuclear weapons? Obviously not. The same is true about talks by Rabin and other Israeli prime ministers regarding the Golan Heights; they do not obligate anyone."
Gold also dismissed fears that a Netanyahu government might cause a rift with the US administration: "This is not true. We must work, and we must explain, and this is how we will protect our national interests. Diplomatic contacts can be very effective, if carried out correctly."