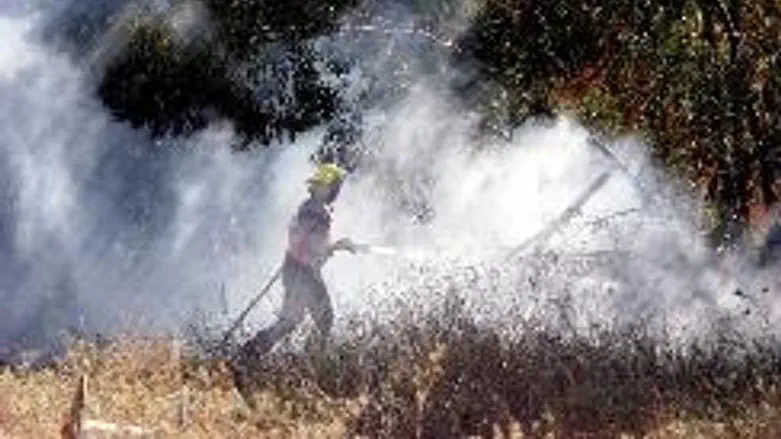 Evacuating wounded from Sderot (archive)
Israel News Photo: (Flash 90)
Gaza terrorists aimed a barrage of 'Grad' Katyusha rockets at the coastal city of Ashkelon late Friday morning, just a few hours after attacking Jewish communities in the Gaza Belt.

Video purporting to show the launch of the Grad rockets Friday

Five rockets were fired at the port city by terrorists in the Hamas-controlled region at approximately 11:30 a.m. A number of people in the city – including children -- were treated for emotional trauma and shock.
Earlier in the day, Hamas terrorist launched a volley of ten Kassam rockets at Jewish communities in the western Negev. Seven of the homemade missiles exploded in the rocket-battered city of Sderot. Two slammed into areas close to Ashkelon, further to the north.
One 70-year-old woman suffered shrapnel wounds in the attack and was taken to Barzilai Hospital in Ashkelon. Four others were also evacuated to the Sderot Trauma Center suffering from emotional shock. Two people were treated for severe anxiety at the scene and refused to be evacuated.
The IDF instructed residents in the Sha'ar HaNegev Regional Council district to stay close to bomb shelters and safe rooms until further notice. Schools were warned not to allow their students to go outside during break time.
Magen David Adom has raised its alert level in the south in the wake of the attacks, and all ambulances are on alert.
Sderot Mayor David Buskila slammed the government for its failure to effectively deal with the onslaughts, calling them "intolerable" and saying that the government was demonstrating its "powerlessness and inability" to deal with the attacks.
"It is sad to be a citizen of a country that cannot deploy its army to give an immediate response to this phenomenon," he told reporters while standing at the site of one of the attacks in his city.
Meanwhile, Shas party chairman Eli Yishai called on the government to convene the Security Cabinet for an urgent meeting to discuss the morning's attacks.
The Minister of Industry, Trade and Labor told IDF Army Radio, "In practice, there is no truce, and we cannot tolerate a situation in which Sderot and Gaza Belt residents are abandoned. There is a deterioration that must be dealt with."
More than 130 rockets and mortar shells have been fired at southern Israel since November 4th.