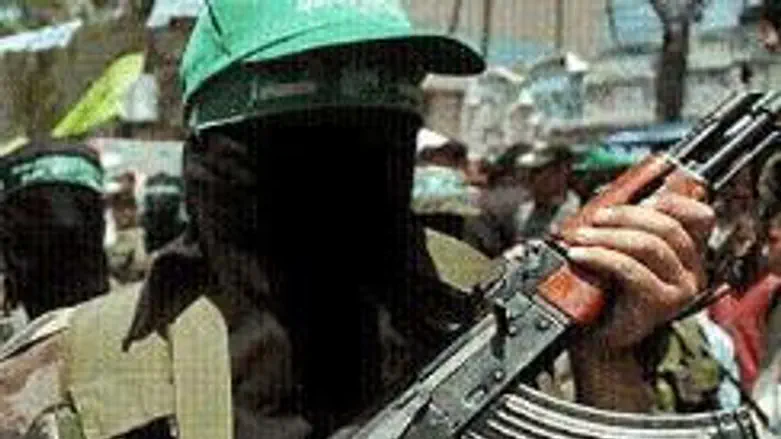 One Killed in Blasts at Café and Hamas Politician's Home
At least one person was killed in two early Friday morning explosions at a café and at the home of a Hamas politician in Gaza as violence continued to grip the region. Hamas blamed unidentified terrorists for the blast.

The victim in Friday morning's explosion was a passerby outside a popular café in Gaza city. Within minutes, a second bombed rocked the home of Hamas politician Marwan Abu Rass, causing damage but no injuries.

Rival terrorist groups and Hamas frequently have fought each other since last summer's Hamas-Fatah terrorist militia war that resulted in a savage defeat of Fatah. Fighting has continued and even escalated since the month-old Gaza ceasefire went into effect.
Hamas has accused Fatah terrorists of trying to undermine the agreement by firing rockets and mortar shells on Israel. The first two weeks of the agreement were marked by several attacks. The last two weeks were quiet until Thursday, when a mortar shell hit an open area near the Karni crossing. 
Several terrorists groups unilaterally extended the ceasefire to Judea and Samaria and then declared the entire agreement null and void after Israeli army forces continued to carry out counterterrorist operations in Judea and Samaria, often preventing terrorists from carrying out imminent attacks.
Israel has also cracked down on Hamas activities in Samaria, where the Palestinian Authority (PA) has deployed American-trained armed policemen, who have generally have restricted their duties to dealing with traffic and criminal violations.
Security forces two weeks ago closed down a mall in Shechem for its relations with Hamas terrorists, but the IDF Thursday allowed stores not affiliated with Hamas to re-open.