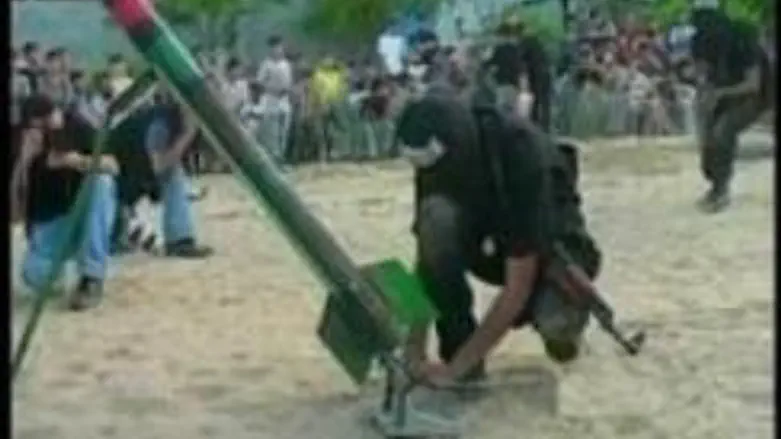 IAF missiles for air strikes.
The wail of the Color Red alert system announced the end of the Sabbath Saturday night in Sderot. Residents were again forced to race through the streets, seeking cover from Kassam rockets fired by terrorists in northern Gaza.

Two rockets exploded in the city, one damaging a fire station and the second landing near the Magen David Adom emergency medical services center. One resident was slightly wounded in the terror attack but treated at the scene. A second person was taken to Barzilai Hospital in Ashkelon to be treated for shock.

The Sabbath was also shattered Friday night by two barrages of rockets in the western Negev, one targeting Sderot and the second landing in a nearby kibbutz.

One of the missiles slammed into the Sderot industrial area, damaging a shipping container next to a factory. A second rocket exploded in the city's commercial center.

In the second attack, a Kassam slammed into a house in Kibbutz Nir, damaging the roof.

According to Voice of Israel government radio, there were no injuries.

A Busy Sabbath for the IDF

Israel Air Force fighter pilots carried out several targeted air strikes in central and southern Gaza during the Sabbath, killing seven people, including six terrorists and one civilian, according to Palestinian Authority sources. 

Four Islamic Jihad terrorists planning a suicide bombing attack were killed in the first strike, aimed at their car as they traveled near Khan Yunis in southern Gaza. The attack came shortly after terrorists launched a failed rocket attack at western Negev communities – the missile landed instead on the Gaza side of the security fence. Three of the terrorists died immediately, and the fourth expired of his wounds several hours later. 

One of the dead in the first strike was Ziad Ranam, a senior Islamic Jihad commander wanted by the IDF for terror attacks in Israel. The other two terrorists were identified as Riyad Ranam and Muhammad al-Ra'I, who fired a rocket-propelled grenade (RPG) in a May 2004 attack on an IDF military post that killed six soldiers.

Approximately three hours later, the IAF carried out a second air strike, targeting a weapons factory in central Gaza.

PA sources reported that a father and son, both members of the Fatah Al Aksa Martyrs' Brigade terrorist group were killed in the second attack.

Al-Aksa spokesman Abu Thaer identified the father, 50-year-old Sala Kuffa, as the leader of the terrorist organization's command in central Gaza. Abu Thaer said Kuffa's son Iyad was also killed. A civilian bystander, 40-year-old Samir Abu Muslim, died as well.
A third aerial strike was carried about the IAF late Saturday night, also against a weapons factory in central Gaza.