A high-tech teaching and research center born of a collaboration between Cornell University and the Technion - Israel Institute of Technology inaugurated its newly built campus on Roosevelt Island.
Over 500 people were present for the inauguration Wednesday morning of Cornell Tech and the Jacobs Technion-Cornell Institute, including New York City Mayor Bill de Blasio, New York Governor Andrew Cuomo, former New York City Mayor Michael Bloomberg, Cornell University President Martha Pollack and Technion Institute President Peretz Lavie.
"Today we take a bold step in the tech arena with the opening of this campus," Cuomo said prior to the ribbon-cutting ceremony. "It's ambitious — it was almost an audacious dream when we started."
De Blasio joked, addressing the Technion president, "In New York, Peretz, we would say this is a mitzvah (commandment from G-d)."
Bloomberg, who conceived of the $2 billion project when he was mayor and donated $100 million to it, said Cornell Tech would help re-establish New York as a technological center.
"In many ways, this project helps bring New York City back to the future," he said, citing various technological features of the campus, such as the goal to make the main academic center one of the largest net-zero energy buildings in the world.
In 2010, Bloomberg invited top universities to submit pitches to build the campus. The winners would receive both funding and land on Roosevelt Island, a two-mile long island on the East River. In 2011, the city declared Cornell and the Technion winners, and the project opened the following year, operating out of a temporary location in Manhattan's Chelsea neighborhood.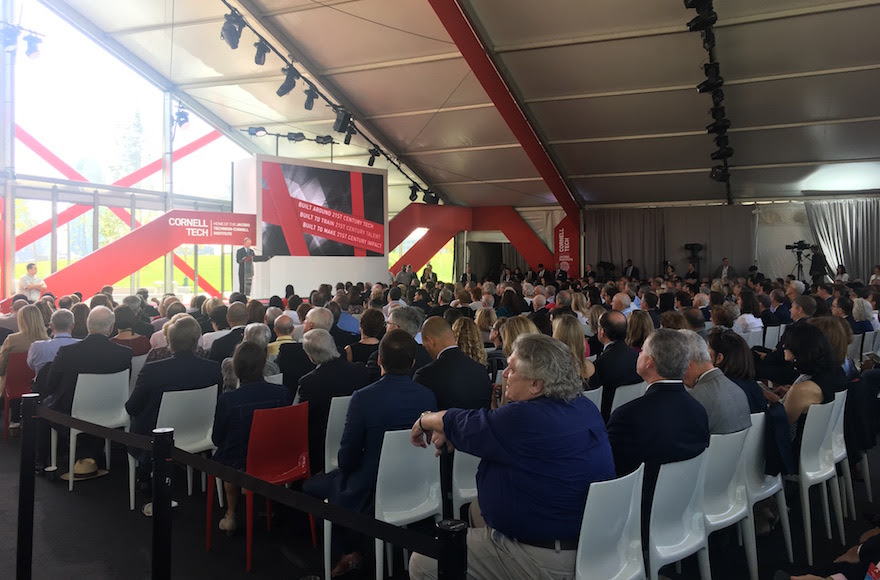 Former Mayor Michael Bloomberg speaking at the opening of Cornell Tech, a collaboration between Cornell University and the Technion - Israel Institute of Technology, on New York's Roosevelt Island, Sep. 13, 2017. (Josefin Dolsten)
Cornell Tech will offer master's and doctoral programs in fields related to technology, computer science and engineering.
De Blasio echoed Cuomo's vision of the campus, which he said, "says to people that we will be forever a global center of technology and innovation."
Lavie recalled thinking the Israeli institute had a slim chance of winning the bid.
"Since we have such a slim chance of winning — be wild," he recalled telling Technion staff. "Use your imagination, think outside the box."
Lavie referenced Cornell University's founder in showing how Israeli startup culture plays into Cornell Tech's technology focus.
"With this campus, Cornell and Technion are making a clear statement: practical knowledge, to paraphrase Ezra Cornell, is not inferior nor second to basic knowledge," he said. "They are the two sides of the same coin. This concept is part of the Technion's DNA and more broadly the State of Israel, which is known as startup nation."